Di derbarê vî babetî de
S € LARGE GAMEING SURFACEã €
Rûbera Gaming ya Mezin: Maseya computerê ya lîstikê rûkek lîstikek dilsoz heye ku ji bo lîstikvanên pro bêkêmasî ye. Sermaseya karbonfiber berxwedêr û pûç e, û paqijkirina wê hêsan e. Serê sifrê yê dorpêçkirî dihêle hûn li nêz rûnin û piştgiriyê dide zend û milên xwe. Rûerdê lîstikê 31.5â € fireh bi 23,62â € kûr, Controller stand we nuha şerrêstgeha bêkêmasî heye ku pêşbaziya xwe hilweşîne.
ST € STABLE AND STURDY Z DESIGN SHAPEã '
Em dizanin ku alavên lîstika we ji we re çiqas girîng e, ji ber vê yekê ye ku me vê maseya lîstikê bi sêwiranek zexm Z-teşe çêkiriye. Ew qeşeng û pir zexm xuya dike. Ji bo ku maseya lîstika PC-ya we di astê de û aram e bi çar lingên hevsengiyê tê. Ne lerzîn.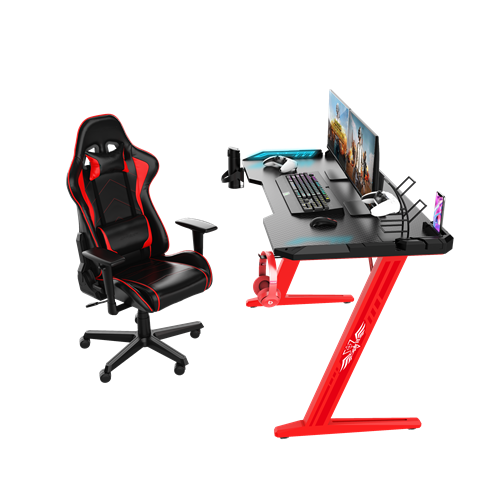 Arm € Red Armour and Dynamic Touch Control RGB LED Lightã €
Zirxê sor şêwazek cûda nîşan dide, Bi stenek yekgirtî, hûn sêwiranerê çêtirîn in. Zirxê kêlekê ronahiyên RGB LED hene, Tenê bi tiliya xwe ve biguhezînin, Bêyî kontrola dûr. Rengê xweya bijare an pir-reng RGB ya dînamîk hilbijêrin pêşandana ronahiyê. Ronahiya LED RGB girêdana USB-ê wekî çavkaniyek enerjiyê bikar tîne. Tecrubeya lîstika xwe mîna carî nebe!
F € FEATURES BUILT FOR GAMERSã €
Vê masa lîstikê gelek taybetmendiyên lêzêdekirî tê da ku ji we re bibe alîkar ku ezmûnek lîstika we çêtir hebe. Vê masa lîstikê ya PC-yê xwediyê xwediyê kûpek guncan, çenga guhnedanê, ji bo klavye û mişka weya lîstikê padaşek mişkê ya pir-mezin.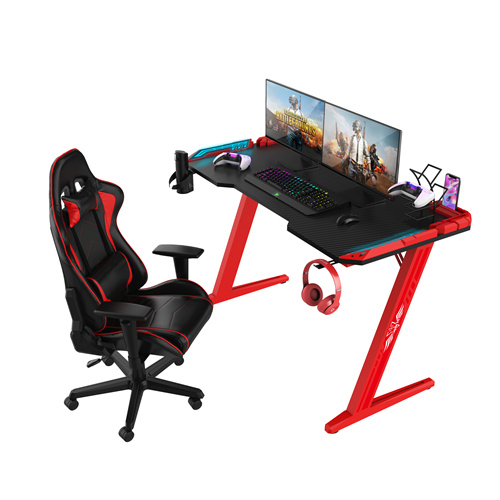 AT € SATISFACTION M CSETAR € '
Em dixwazin pê ewle bine ku em maseyên lîstikên çêtirîn li sûkê sêwiran dikin û çêdikin. Em her tiştî di kargeha xwe de çêdikin. Em şanaziyê bi sêwiranên xweyên nûjen, ceribandinên hişk, û pêvajoya çêkirina çîna cîhana xwe dikin. Em hilberên xwe bi standardek bilind digirin û hêvî dikin ku hûn bi karanîna maseyên lîstikên me xwedî ezmûnek hêja ne.
ã € ABOUT USã €
Em Çînkerê maseya lîstokê ne. Em her tiştî di kargeha xwe de çêdikin. Tîmek meya pêşkeftinê ya profesyonel heye ku hilberên nû sêwiranê bike û hilberên OEM û ODM pêşkêşî xerîdaran bike. Welcome bi xêr hatî serdana fabrîkayê bikin û rêzê kontrol bikin.
【FQA】
Q1: Ez çawa dikarim bihayekî bistînim?
A: Me karmendek firotanê û têkiliyê ya dilsoz heye ku dê rojê 24 demjimêran di xizmeta we de be. Hûn dikarin ji me re e-nameyê bişînin, WhatsApp, Facebook, an awayên din bikar bînin ku bi me re têkilî daynin da ku em karibin bihayên we peyda bikin.
Q2: Ma ez dikarim nimûnan bikirim?
A: Erê, hûn dikarin bi me re têkilî daynin da ku ji bo dravî mînakan bigirin.
Q3: Ji bo radestkirinê dema weya rêberiyê çiqas e?
A: Ew bi hejmara fermanan ve girêdayî ye. Bi gelemperî, çerxa hilberînê ji bo konteynerek 40 metre nêzîkê 15 rojan e.
Q4: Mercên dravdana we çi ne?
A: TT, Yek Têkilî, L / C an rêbazên din ên dravdayînê. Ji kerema xwe berî ku emrê xwe bidin me bi me re rast bikin.
Q5: Heke mal piştî zirarê zirarê dîtî ez çi bikim?
A: Hûn hewce ne ku sertîfîkayên derbasdar ên têkildar peyda bikin, û em ê di emrê din de ji we re eynî berheman bişînin.
Q6: Xizmeta me çi ye?
A: Tîmek meya pêşkeftina profesyonel heye ku hilberên nû sêwiran bike û hilberên OEM û ODM pêşkêşî xerîdaran bike. Em ê di dema hilberîna girseyî de hemî hûrguliyan pêşkêşî we bikin, rêveberiya kalîteya baş û karûbarên şopandina birêvekirinê hene, û ji bo seredana fabrîkayê û lêpirsîna fermanê bixêr hatin.
Q7: Çima pargîdaniya xwe hilbijêrin?
A: Em xwedan ezmûnek zêdeyî 20 salan hilberînerê mobîlya ya hardware ne. Ji ber ku em hilberînerê pîşesaziya mobîlya ne, kalîte û biha pir pêşbaz in.
Q8: Hûn çawa karsaziya me dirêj dikin û têkiliyek baş didomînin?
A: Em qalîteya baş û bihayên reqabetê garantî dikin da ku sûdê xerîdarên xwe misoger bikin. Dê daxwaz û giliyên we li vir bêne rêz kirin, Hûn ji ku derê ne.
Hot Tags: Maseya lîstikê, Red Z-Shaped 31.5 inch Destika Birêvebiriya Desteyê Ronahiya Gaming Ronahî Bi kursiya sor ArmorGaming, maseya rûniştinê, maseya lîstika pc, hilberîner, kargeh, Çîn, lîsteya bihayê